he innovative force behind Rilleau Leather was Roger Rilleau. Born in 1909, he emmigrated to the US with his family soon after the end of World War 1…leaving his French roots in Brittany for the opportunities of New York City. Although Roger worked in primarily technical vocations while in New York, his innate skills in art and design were also emerging. He became proficient in wood sculpting and produced striking works both literal and abstract, functional and decorative.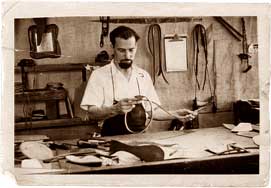 Roger Rilleau, 1948.

---
Introduced to Isamu Nagouchi, Roger worked on several projects with the world renowned sculptor, one of which is still on permanent display in Rockefeller Center.

In the early 30's Roger became one of the many artists who migrated between New York and Provincetown, Massachusetts. Here he became involved with a craft cooperative dedicated to reviving and honoring ancient Grecian Arts. While learning the process of handcrafting leather sandals in the Greek tradition, he became enthralled with leatheras a creative medium and began to explore new applications of the versatile material.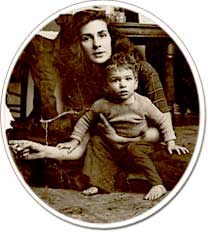 Peggy Rilleau and Kim, 1952.

---
It was also as part of the New York / Provincetown art scene that Roger met Peggy Tryon. Peggy was a talented art student from Cooperstown, New York that was enrolled at Cooper Union. They married in 1943 and Peggy became pivotally involved when they started their own leather shop in Provincetown. For decades their creative talents flourished in a dynamic collaboration of Roger's innovative designs and Peggy's artistic refinements.

Left: Roger Rilleau and Kim, 1952;
right: Kim and son Ty, 1995

---
Although all five of the Rilleau children were involved in various phases of the leather business, elder son Kim (born in 1950) continues the trade to this day. After a long and intensive apprenticeship with his parents, Kim has run the family business since 1972. Roger Rilleau passed away in 1977. Peggy lives happily in Hull, Massachusetts.

In 1997, exactly sixty years after his father's beginnings in leatherwork, Kim moved from the family home in Provincetown to the rolling hills of Woodstock, Vermont…relocating his wife, children and the Rilleau family leather business in the process. Here he continues to craft Rilleau Leathergoods in the large studio on the family property (often with the able help of son Ty) and continues the tradition of excellence that is associated with the Rilleau name.




I was born in1950 on Long Nook Road in Truro, Mass., but I grew up in Provincetown. My earliest memories are of the family leather shop which was in an old Chinese restaurant at 347 Commercial Street, and we lived in the back.
Being the first born son of eventually five siblings, I was taught the family trade from early on.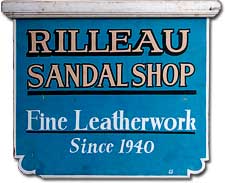 My parents had settled on the Cape from New York…talented artists who developed a business around the beautiful objects they made from leather. So I learned how to shape, stitch and work leather from the time I was four. My father and mother were patient teachers but demanding in their standards and though I sometimes resented the long hours I was required to put into the family enterprise, I realized I was learning something of deep value from the best in the business.
Though I had spent countless hours in the shop by that time, it was in the summer of 1962 that a more serious, committed level of involvement was expected of me. In addition to the miscellaneous items, I began making simple but beautiful leather key chains and buckle belts, and from this point spent the predominance of each summer working alongside my parents…particularly under the strict tutelage of my father. At fourteen, I was given my own bench and, finally, my own knife (which I still treasure)…a gesture of passage that was not lost on me. That year again, my duties grew and I became responsible for much of the sandal sole reconstructions and repairs.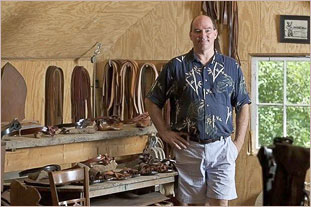 Kim Rilleau in his Woodstock shop, 2008.
Photo: Justin Cash
Each week, each month, each year I learned more and was correspondingly given more responsibility and in the summer of 1967 had sufficiently mastered all the aspects of the sandalmaking craft to my father's satisfaction. By 1970 my father was less and less involved in the hands on work in the shop (he had already logged over 30 years at the bench by then) and he was glad to hand the reins over to me at that point.
From 1968 till 1997 I conducted the Rilleau Leather business from a studio at the family house in Provincetown and then, with a heavy heart, moved my family and the family business to Woodstock, Vermont where it thrives to this day.
---