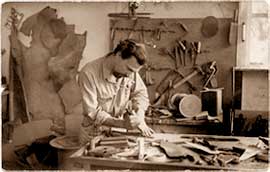 Roger Rilleau, 1947.

---

t was 1937 when Roger Rilleau began applying his considerable talents as artist and designer to the leather medium. Since then, Rilleau Leather has continued to produce handmade leathergoods of quality and distinction.

In addition to their renowned line of custom made sandals, Rilleau Leather also offers their unique series of sculptural Knotted Belts as well as bags, cases and specialty items..

For over fifty years, Rilleau leather goods have been available only through the doors of the family workshop. Now, through the far reach of the internet, the products of this esteemed establishment are available to the world.

This site will give you some sense of who we are, what we offer, and what you can expect in dealing with us.

Welcome and enjoy the menu!

Read about Kim Rilleau and Rilleau Leather in Seven Days, Vermont's Independent Voice.