lthough the Rilleau name is most often associated with custom footwear and the line of Knotted Belts, we have also produced beautiful shoulder and handbags for men and women for more than half a century. As with all our products Rilleau Bags are simple, elegant and very distinctive, and each is made with the same meticulous attention to quality and workmanship that helped create the Rilleau reputation. These bags are not big on cute or gadgetry…they are an impressive blend of graceful form and articulate function.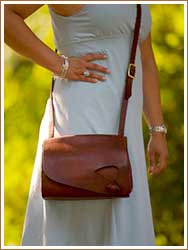 Rilleau Bags are made with what we call open grain leather. This requires much more hand finishing but ensures that the result will give a natural look and feel that will develop that glowing patina that improves with age. Many high volume companies use pre-finished leathers that require much less time to finish but look and feel synthetic and unfortunately will continue to as they are used.
As has come to be expected from the Rilleau name, only the best of the best leathers and hardware are used in the fabrication of these bags, and they are made with the intention that they be treasured for many years.
At this time we offer five basic designs in leather bags. Each is described in the following texts. Each piece is signed and numbered and shipped with instructions for care. Visit out SHOP page to order.
THE RILLEAU CLASSIC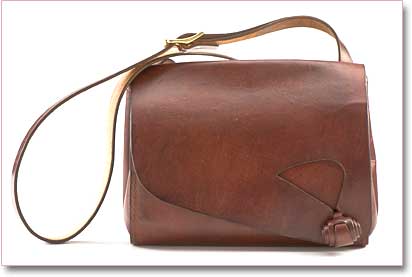 This beautiful shoulder bag is a continuation of a design that Roger and Peggy developed in the late '40's. Although influenced by traditional English field cases, this bag is distinctly Rilleau. The graceful lines and gadget-less design express an elegance that is both classic and current …timeless and topical.
As with all our designs, this piece is completely appropriate whether dressing up or down: totally at home on the hip at 5th Avenue, yet making a stylish birder's bag for the field…accepting journal, binoculars and a small lunch.
The bag is 8 1/2" tall; 10" in width and 6" front to back at the base. It comes with one main compartment, one sub-compartment interiorly and is available with the optional leather envelope that separates keys, checkbook, address book and the like. See below for ordering instructions.
Click for additional views of THE RILLEAU CLASSIC; click again to close.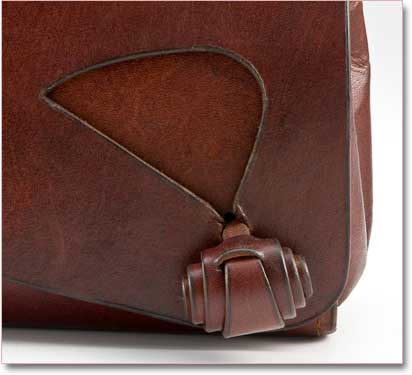 ---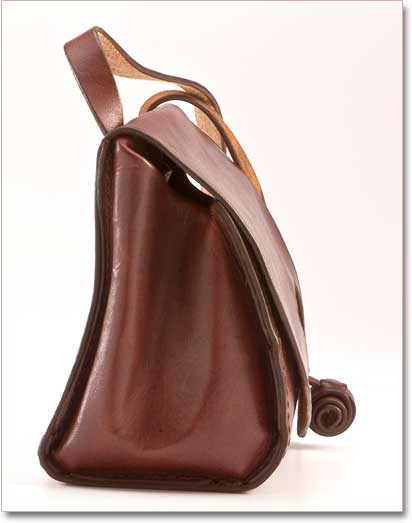 ---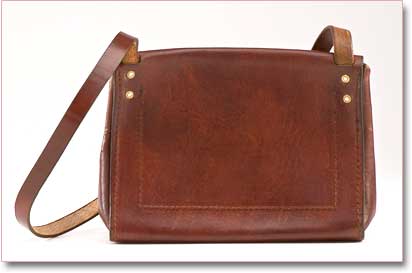 ---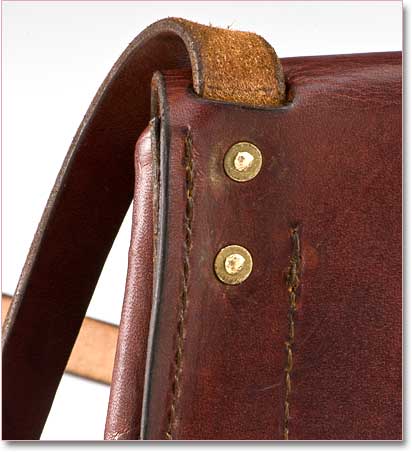 ---
THE POSTMAN'S SPECIAL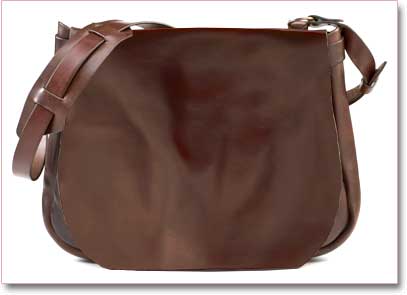 For years my wife Lynne made everyday use of a beautiful 1940's Postman's Bag…you know, one of those sharp looking pouchbags you see in all the movies of that era. It was made of top shelf materials and high level craftsmanship and when her bag was lost, it was a sad day.
This Rilleau bag borrows shamelessly from that classic, functional design but has somehow taken on the distinctive Rilleau look. It also seemed wise to downsize the dimensions somewhat to make it easier to handle…so we did.
This bag is still plenty roomy but not bulky. It is 11 ½" tall; 14" wide; and 4 ½" front to back. The main compartment has a sewn in divider to give two compartments there, and there is a convenient pouch in the back for easily accessible items. It is also available with the leather envelope that keeps smaller items contained. The soft leather pad on the shoulder strap makes this comfortable for straight carry or cross-body if desired. See below for ordering instructions and options.
Click for additional views OF THE POSTMAN'S SPECIAL; click again to close.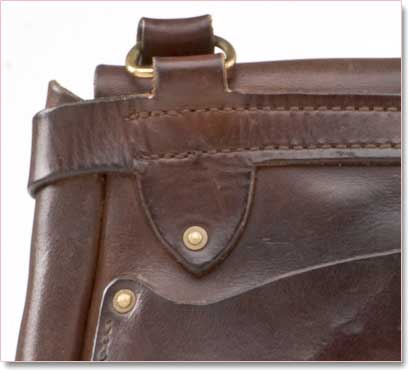 ---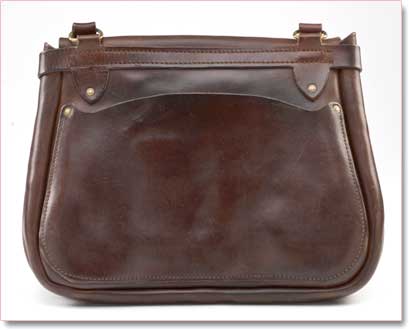 ---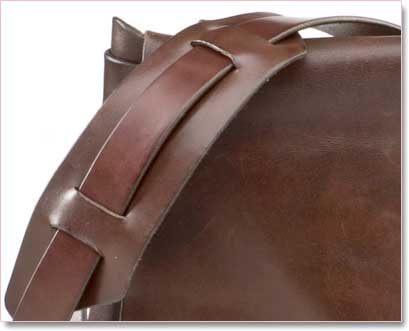 ---
THE TRAVELER HANDBAG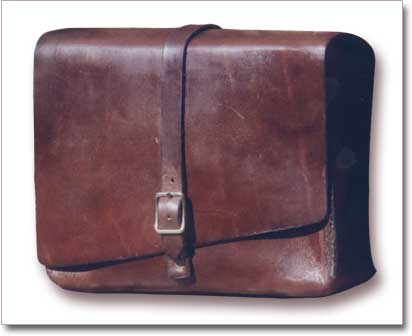 As the name implies this bag is intended for hand carry when shoulder straps and multi-compartments are functionally superfluous.
The first of this design was made by my son Ty for a customer who traveled extensively and wanted to keep his journal, passport and tickets secure but separate from his luggage when on the move. This bag also serves well when going light.
This is a relatively small piece: 7 ½" tall; 9 ½" wide; and 2" thick. It has one main compartment and a pocket on the back for easy access to tickets, passport, checkbook; etc. For those who prefer, this bag is also available with a detachable shoulder strap. See below for ordering instructions.
THE RILLEAU BRIEFCASE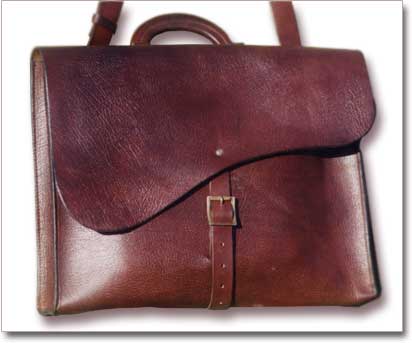 Here is a simple but elegant treatment of the timeless briefcase. The lines and purpose of this bag really speak for themselves: both bold and yet understated…distinctive and conservative. This bag definitely gets noticed. The main compartment has a sewn-in divider to give two sections there and the back panel has an additional pocket there for easily accessible items. It is also available with the 6" x 9.5" leather envelope to keep keys, cell phone, palm pilot, writing utensils, etc. separate but secure.
The size of this bag is 16" in width; 13" in height and 3 ¼" front to back. In addition to the leather luggage handle, it is available with a detachable padded leather shoulder strap. See below for ordering instructions.
THE LEATHER ENVELOPE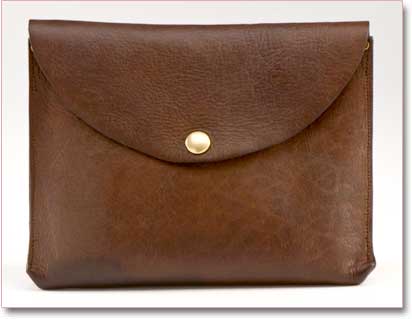 The leather envelope is  a simple and ingenious accessory for shoulder bags. It gives added flexibility for those who want an extra container for smaller items yet don't want the busy look of multi zippered compartments so commonly in use today. It also affords the very convenient option of being carried solo when a small hand-pouch will suffice.
The Leather Envelope is made of a matching leather and with equal care in craftsmanship.  For those inclined, the Envelope can be ordered as a separate item.
6" x 9.5" See the ordering page for options and instructions.
Click to see Bag Ordering Information (click again to close)
Select the bag you wish to purchase.
Choose color.
Decide on the Rilleau Envelope option.
Enter this information in the space provided on the "checkout" page, or send this information with payment to the address below.
Available Colors:
Light Brown
Medium Brown
Dark Brown
Mahogany
Black
These colors represent scans of actual leather samples. Because of variations in computer monitors, platforms, browsers, and color spaces, these should not be regarded as absolute color references, but only as a relative indication of color varieties.